Team Rileys prepare for a showdown with one of the more inconsistent teams in the division in week seven. Lamb B had to wait until their fifth game to register a win – but demonstrated that a wolf sometimes lurks beneath the wooly veneer to beat reigning champions Replay 7-5. Defeat against Kicker A followed to leave the Lamb boys a little too close to the drop zone for comfort. The form-book suggests another Rileys win with Bob Grant's troops targeting their fifth consecutive victory – but will they possess enough fire power on the night to gun down Tony 'Bullet' Bowler and Co?
Before we begin… if there'd been a turd on the table it would probably have rolled off. The Pest would have been lying mouth agape if said turd had been excreted by one of his team-mates. But that aside you can only play the table and player in front of you so game on:
Lamb B 0 Team Rileys 1
Nick Powell continues to grow in stature game by game (not literally) and gets Team Rileys off to a flier. His penultimate ball is a beauty and contender for shot of the night. The black's not a gimme though and Big Nick has to wait his turn before mopping up to give Rileys victory in rack number one. Earlier in the frame Powell is to experience first hand the unreliable nature of the table that would affect both sides in equal measure.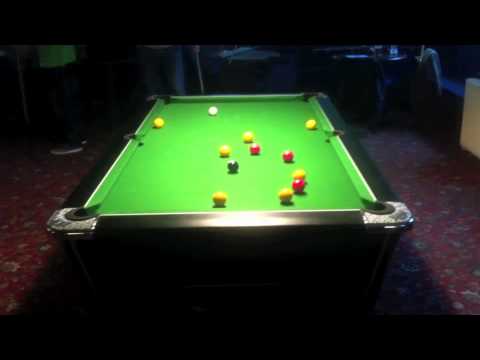 Lamb B 1 Team Rileys 1
Dave Whitehead prevails in a fudge fest to level up the match. Dave Walker is in decent shape early on before Whitehead covers a key bag with Pubby's colours piled on top. An attempt to take the black away from the problem bag ultimately settles the rack when Walker gifts his opponent two shots with everything on. Walker could throw in a second roll off as an excuse for defeat. But ultimately it's James Ellison's illness from the previous week that has been passed on to Rileys' top stats man.
Lamb B 2 Team Rileys 1
Ellison has a lot to answer for when Rileys lose the next. Bob Grant is on for a composed clearance before hampering himself slightly on his final yellow. Captain Fudge makes the pot but over-screws by millimetres to leave himself snookered on a gimme black. The momentum switches and when two shots arrive later in the game Rick Smith punishes the Rileys skipper.
Lamb B 3 Team Rileys 1
Unbelievably Steve Pardner has also contracted Ellison's symptoms. After all, how else could anyone lose a frame? The table adversely affects both players in rack four. The Pest looks like he's in for the kill when he's gifted a foul snooker. Pardner cannons his first but leaves himself snookered. The escape is good and a pot follows before a miss on a key cut into the middle. Pete Lorne is left with a tough three quarter length angled pot with the white close to the cushion. Lorne's shot is a beauty and he can't miss the black for 3-1.
Lamb B 3 Team Rileys 2
A dry break gives Dom Mills the early impetus against Tony Bowler in the next. But when the clearance opportunity arrives Rileys vice-captain emulates his skipper by snookering himself on his penultimate ball. The intentional foul is poor but Bowler surprisingly fails to make Mills pay as players continue to struggle with the table. A snooker attempt leaves a pot on. The white ends close to the middle bag but fails to drop and Rileys halve the deficit.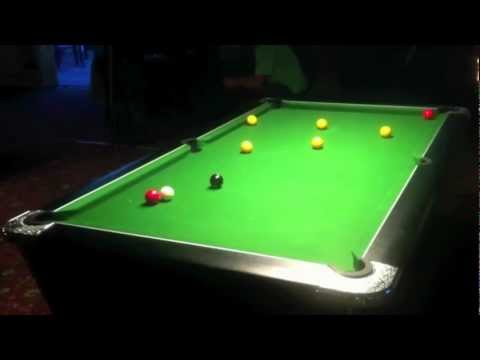 Lamb B 3 Team Rileys 3
Andy Jones fails to utilise Jason King's "awesome" new break-off shot and is rewarded by keeping the white on the table and sinking a ball. The Professor has a very makeable dish on but makes hard work of it with a number of errant positional shots. A horrendous kick on the last red ruins the clearance attempt. A fudge fest follows and Paul Marcia perhaps should do better. But ultimately it's the Jones who finally takes it following a top draw positional shot on his final red.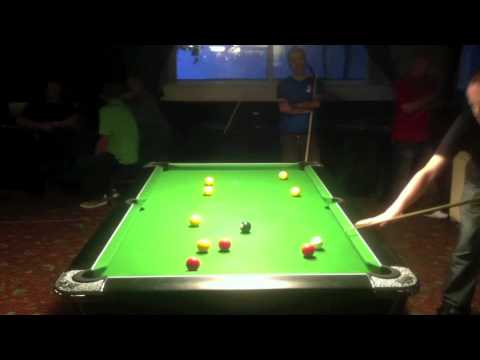 Lamb B 4 Team Rileys 3
Tony Bowler is tasked with reestablishing Lamb's advantage. And Bowler achieves that aim despite a clearance attempt breaking down on his final colour. Steve Pardner has more than a sniff after forcing the foul. The Pest uses the two to dislodge his problem ball and is left with a difficult cut along the rail on his final red. The ball drops but Pardner is unfortunate to see the white also drop into the opposite corner. The Bullet cannot fail with two and fires his side back in front..
Lamb B 4 Team Rileys 4
A frantic search for a rest breaks up rack number eight. Jason King is finally handed the tools of his trade and sinks a tricky black to restore parity. King had been second favourite early on but when given the chance was clinical. A fudge attempt drops before an excellent positional shot lands The Terminator on his problem ball prior to his shot with the rest.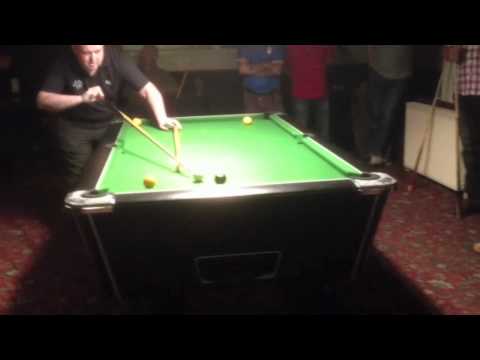 Lamb B 4 Team Rileys 5
TV star Geoff (aka Dave Walker) prompts a new fluke section in the video highlights following his victory over Pete Lorne. The table again plays havoc with the play of both. Pubby suffers a horrendous kick on his second to last red while going for the counter-dish. But the fluke proves decisive and Walker feels "epic".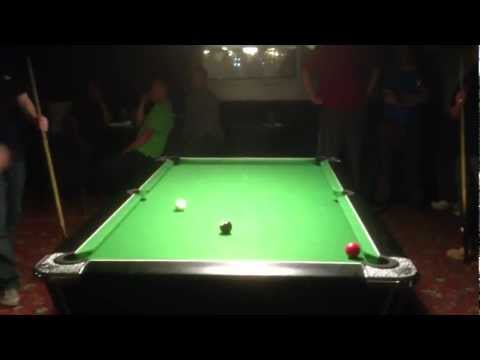 Pubby starring in his new ad
Lamb B 4 Team Rileys 6
Paul Marcia had clearly not consumed enough spinach after failing to hit a cushion in the next. Nick Powell nails a shot down the rail with his first before narrowly failing to dislodge his problem ball sufficiently with his next.  A double almost turns into a treble and leaves a ball hanging over the corner. Big Nick then capitalises with a neat swerve followed by simple pot and a neat cut on a missable black.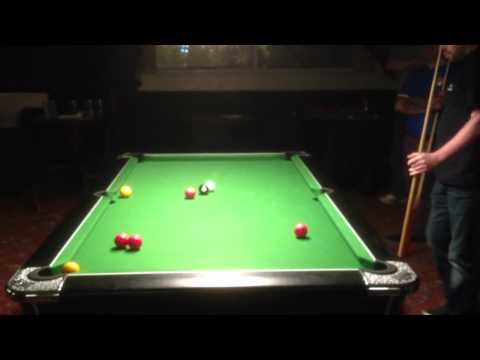 Lamb B 4 Team Rileys 7
A marathon 11th is won by Andy Jones to get Rileys to the magic seven. The safety section of the website could well be overloaded by the 27 minute and 15 seconds rack. The Professor, who is control throughout, plays a complete team rack before taking out the finish in fine style.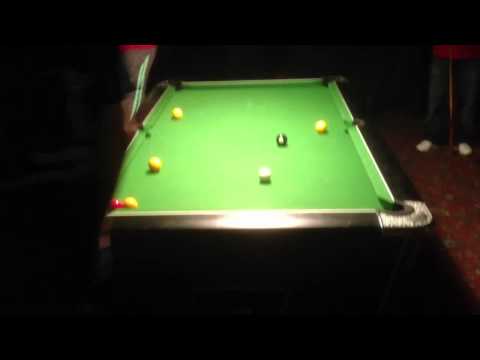 Lamb B 4 Team Rileys 8
A match punctuated by fouls – with the dodgy table largely to blame – has another to add to the tally in the last. Paul Henry is unfortunate to sink one of Dom Mills' balls to give away the two. The Gypsy develops with his first before completing a routine clearance for the 8-4.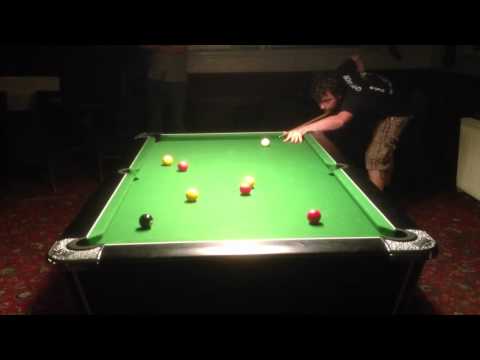 S&DPL Round-Up
Fears of a pooldemic subside when the score filters through from the table-topping clash between Replay and Jubilee. Replay register a heavy 10-2 win but Ellison's illness has not been transferred to the Jubilee boys who are simply well beaten. TR share the love with stable-mates Ollies prior to their match-up with Sheps. Dom Mills and Carl Horsefield epitomise the burgeoning relationship between the Prem One rivals with a number of friendly racks on the baize – sparking rumours of a merger betweeen the two sides. But that would make it Team Rollies which would perhaps upset the more rotund members of the two sides. Back on the table it's Sheps who emerge victorious over Ollies on the night as Rileys extend the Prem One gap between third and fourth to nine points.