The penultimate week of the Summer League pits Rileys against the relegated Windies. Only a last rack winner from Andy Jones edged TR home in the reverse fixture. And with the race for second spot hotting up Rileys are hunting big points to maintain their four-point gap over third-placed Silver Jubilee…..
Windies 0 Team Rileys 1
Regular lead off man Nick Powell is in trouble early doors with Jack Sewell curbing his attacking instincts to cover bags. Big Nick responds by playing the intentional foul. Commentator Dom Mills reckons the decision has lost Powell the rack while Jason King calls it a "definite lack of respect". But it pays dividends when Sewell plays a poor positional shot. Big Nick is back in and a perfect double opens up the rack for Rileys to take the opener.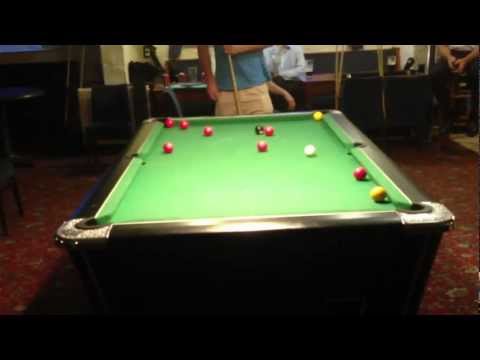 Windies 1 Team Rileys 1
Andy Jones utilises the patented Jason King "awesome break" and is rewarded with an excellent split and no balls potted. All the yellows are in the open – but there's still plenty of traffic to avoid. A well judged opener from Carl Palmer begins the clearance and the Windies man completes the counter-dish in the same confident manner in which he began.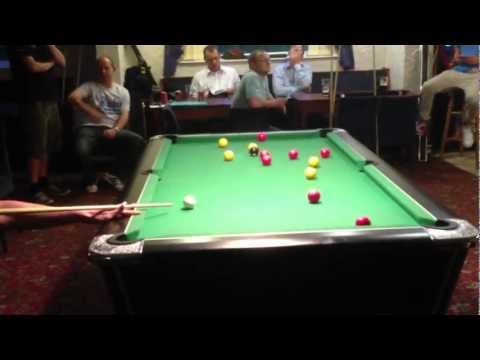 Windies 1 Team Rileys 2
Jason King is one pot away from a certain dish in the next before Al Smith squanders a decent opportunity of his own. The Terminator, widely criticised for playing to the camera one week earlier, finally produces the "team shot". It turns the game after Smith twice fails to achieve ideal position on a ball down the rail and TR are back in front.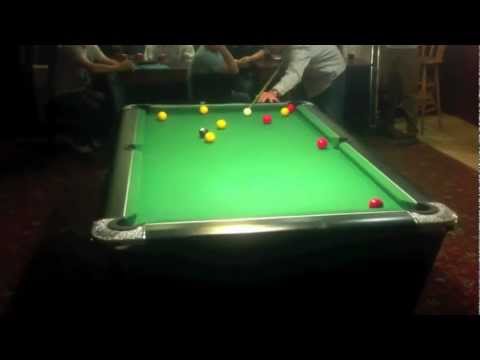 Windies 1 Team Rileys 3
Once Kyle Wilson has both top pockets covered the game is his to lose in rack four following the early sparring. Lee Oliver – the man at the centre of the return game's foul snooker controversy – is The Rookie's opponent. And Wilson's underrated tactical game comes up trumps before the TR man nails a slightly tricky black for the win.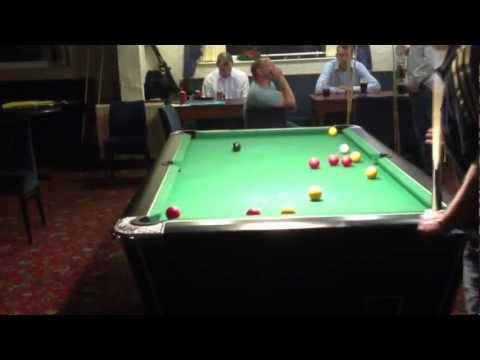 Windies 2 Team Rileys 3
Rileys have been good opposition for Glyn Howells this season and he's at it again against Steve Pardner in the next. The Pest will have been disappointed with the two shots given away partway through that allows Howells a clearance attempt that ends with a poor positional shot onto the black. The Windies player is slightly fortunate to leave the majority of Pardner's red covered when the long double fails. The Pest plays a decent fudge but Howells produces an excellent thin cut to take the rack.
Windies 2 Team Rileys 4
Like a gluttonous man who has discovered fudge and craves for more Dave Walker again shows his adaptability as Rileys end the opening half on a sugar high. The break leaves both sets of colours tough and containing shots are the order of the day. Pubby, from a controlling position, makes the first error when gifting Nige Doyle two. But Doyle gives two straight back and that's game.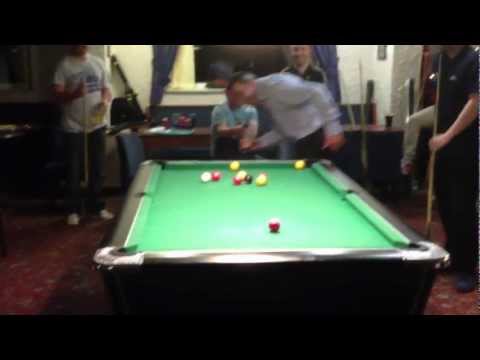 Windies 2 Team Rileys 5
Fudge fans collected a hefty dose in rack six but the opening rack of the second half would not have been out of place in the annual Mackinac Island Fudge Festival (Michigan, USA). With Bob Grant away on annual leave the fudge mantle passes to able deputy Andy Jones who milks it for all its worth. The Windies man out-foxes the commentary team by taking reds. But Tim Fox then pots his way into trouble which well and truly opens the fudge trapdoor. The Professor looks to make completely sure by turn down opportunity after opportunity in the ultimate team rack. The killer chance eventually arrives and the lengthy rack ends in Rileys' favour… which is almost as predictable as the Jonesy's football card win which entertains the TR faithful almost as much as the 'action' on the baize.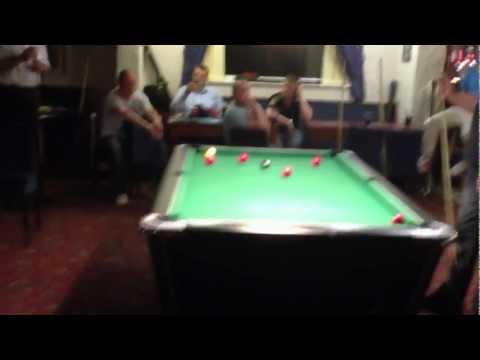 Windies 2 Team Rileys 6
Windies' player of the first half Carl Palmer is up against Jason King in the next. The 'team rack' mantra is well and truly devoured by King who covers one bag before playing an intentional foul to cover another. Palmer arguably should have done better after getting down to his final colour with his two shots still intact – but only succeeds in snookering himself with the first. The Terminator is suddenly in control and despite a miss into the middle, which leaves little on, takes the rack.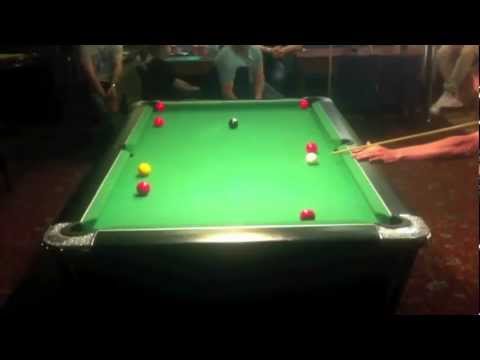 Windies 3 Team Rileys 6
How well he's done against us (that really doesn't work does it?). And Howells is at it again in rack nine – and this time against leading S&DPL stats man Dave Walker. Pubby has chances and is left to rue an unfortunate kick that prevents him mopping up. Walker has one more opportunity but slightly overcooks a thin snick before taking on a tricky red, which looks like dropping but doesn't, and Howells takes full advantage.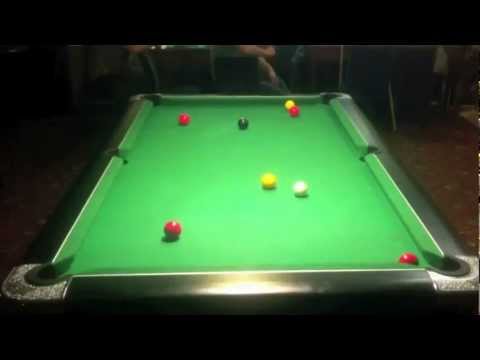 Windies 3 Team Rileys 7
Skipper Bob Grant had set a target of seven racks in his absence. And Kyle Wilson takes them over the winning line with victory over Al Smith. Smith is unfortunate not to land better following a fine pot with a heavy dose of top spin leaves him in trouble. Wilson is in and completes a routine and error-free clearance.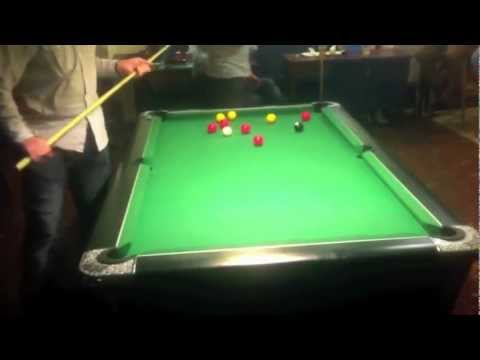 Windies 3 Team Rileys 8
The penultimate rack is a short one with Nick Powell up against Lee Oliver. The battle of the vertically challenged cueists begins with a dry break to give Big Nick the early impetus. Pot precedes safety to keep the TR man on top. And when Oliver misses Powell produces a classy finish – set up with an excellent cannon to free up his tied balls.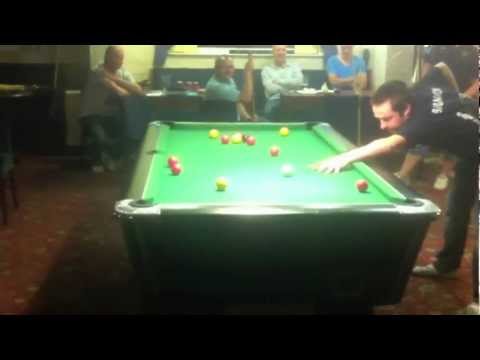 Windies 3 Team Rileys 9
Dom Mills enjoys a strong record against Nige Doyle and the stand-in skipper maintains his winning run with victory in the last. Doyle is first to go for the winning line and looks a good bet after a quality cut into the middle which splits the pack. But a positional shot goes awry and Doyle is in trouble when the forced attempt to retrieve position goes wrong. Mills pots then lays the snooker before clearing up with the two.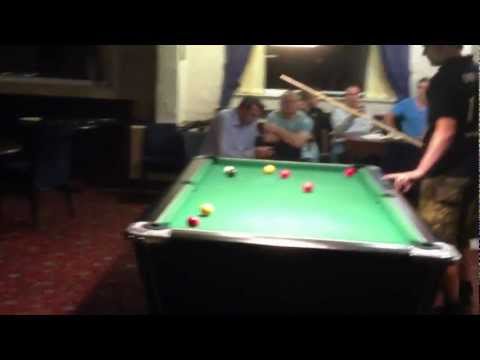 S&DPL Round-up
Replay are held 6-6 by a Sheps side who had enjoyed a 6-3 advantage. But the result is more than enough to confirm the title for the defending champions with one game to spare. Silver Jubilee keep the battle for second alive by replicating Rileys' result at home to rock bottom Smurfs. And victory for Club Replay over Lamb B keeps it interesting down at the bottom. It's now one from three between Club R, Kicker and Lamb B. A win for TR against Club R should be enough to confirm second spot while also sending their opponents straight back into Prem Two. Anything else could allow Jubilee to sneak in and also open the trapdoor for their opponents Kicker – a team judged by many as too good to go down. Lamb B face Smurfs and should be safe barring a combination of shock results.