S&DPL Premier One
(Wednesday, November 16, 2011)
Cabbages 6 Team Rileys 6

Cabbages remain one of the enigmas of Prem One, capable of beating the top teams and also losing to the division's lesser lights. The Cabbages return to action with a defeat against Windies still fresh in the memory while Rileys arrive at the Winds (again) eager to return to winning ways following the previous week's disappointing result and performance against Lamb B…
Cabbages 0 Team Rileys 1
A dry break fails to cost Bob Grant with Barry Daws running further and further out of position. Captain Fudge stacks almost all his yellows over one bag and when the chance arrives precedes to take them out. Grant runs slightly out of position, necessitating a perfectly weighted fudge. Daws then denies Grant the clearance – and a video highlight – when his attempted escape only succeeds in dropping the black.
Cabbages 1 Team Rileys 1
Paul Smith looks set to dish following a series of pin-point shots before an inexplicable miss on the black. Dom Mills gets back into the rack and also clears to the black before a poor final positional shot. The Gypsy wins the ensuing safety exchange and is presented with a half chance – but precedes to jaw the black and Smith takes full advantage.
Cabbages 1 Team Rileys 2
Steve Pardner's sublime black lights up a scrappy third rack. Tim Fox, who looks more suited to the role of pallbearer than ball potter, had earlier missed a very makeable shot to claim victory. Fox was still favourite but two excellent yellows before 'that black' seal it for Rileys.
Difficult black to take victory and put Rileys back in the lead.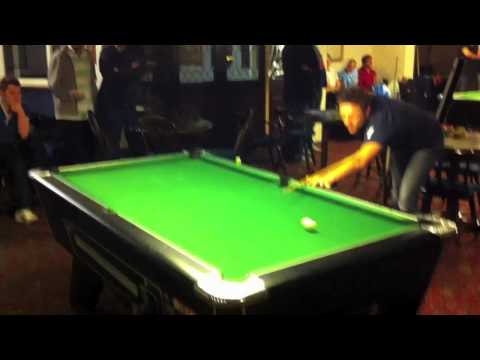 Cabbages 1 Team Rileys 3
Daz Jones looks to capitalise when a Kyle Wilson attempted clearance falls down on the final colour. The Winds landlord produces a series of stylish shots before an inexplicable black ball miss into a 'big' pocket. The Rookie pounces to put Rileys 3-1 ahead and increase Dazzlers' winless start to the S&DPL Winter League.
Cabbages 3 Team Rileys 3
Cabbages claw one back with an Adam Clark counter-dish following Andy Jones's dry break which leaves the table perfectly open. Clark comes out in the re-draw (how many have Cabbages made this season) and takes on Dave Walker. The Pub Player shows his tactical nous before attempting to clear. A deserved half time lead for Rileys looks on the cards before Walker's penultimate shot. Pubby attempts to cannon the black but ends with a tricky cut down the rail. The black jaws and its back to all square.
Cabbages 3 Team Rileys 4
With Dave Walker's 100 per cent record up in ginger smoke Cabbages anticipate an immediate backlash with Pubby returning for back-to-back games. Daz Jones is the unfortunate victim after missing a relatively simple pot following a dry break. Like an over-weight jaguar Walker prowls round the table, sizing up each shot before an emphatic pot with inch-perfect position. A three-quarter length yellow with the cue ball close to the cushion is dispatched with ease to set up the eight-ball finish.
Cabbages 3 Team Rileys 5
Andy Jones returns to his clinical best after turning the tables on Barry Daws. The advantage is with the nomadic Daws early on before The Butler serves up a combination of tactical know-how and precise potting to take out a nice finish.

Jonesy cleans up.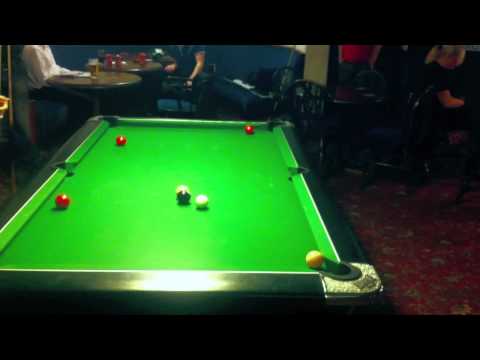 Cabbages 4 Team Rileys 5
Bob Grant produces the night's most memorable break-off in rack nine. The balls move a collective three inches and Adam Clark takes two and a fresh break. Nothing drops but the table is wide open – only for Clark to miss a shocker. Poor misses are then traded before Clark eventually downs a ball and follows up by sinking the rest.
Cabbages 5 Team Rilesy 5
Paul Smith receives his second reprieve of the night when Kyle Wilson lets slip a great opportunity to move Rileys within touching distance of the win. The Rookie plays a poor positional shot midway through what should have been a routine clearance then misses a tricky cut into the middle. Smith clears with ease and it's all square once again.
Cabbages 5 Team Rileys 6
Jason King gets his timing all wrong and arrives moments before the food is dished out. With the aroma of beef stew in the air Kingy looks eager to chow down and appears set for the dish before leaving himself slightly hampered on a tricky pot down the rail. The ball is jawed but Tim Fox is left with a mountain to climb and fails to get close – presenting The Terminator with a simple clearance.
The King makes it look easy.
Steve 'The Pest' Pardner has turned losing from a winning position into an art form and rack 12 is a prime example. A number of excellent pots place Pardner in prime position before The Pest slightly over-runs the white – twice. The Pest sinks a tough black into the middle but the white heads towards the top bag before trickling in to gift Cabbages the draw and Daz Jones his first rack this season.

Steve shows how to lose from a winning position again!