S&DPL Premier One
(Wednesday, November 30, 2011)
Team Rileys 8 Egerton Arms 4

Nothing short of victory against an Egerton Arms side who have picked up just 10 points from their last four games will do for Team Rileys. But with the likes of Aidy Evans and Paul Coppock more than capable of picking up racks a repeat of the previous week's dismal showing against Sheps could spell disaster…
Egerton Arms 1 Team Rileys 0
Disaster immediately strikes in rack one when Pete Bruce is left to bemoan two huge slices of fortune which go his opponent's way. Brucey is left playing catch-up after an excellent Aidy Evans break. Rileys' regular opener claws his way back into the game only to be undone by a couple of missed pots from Evans which leave the home player in an ideal position to clear. Evans does just that to give Egerton the early advantage and leave Rileys contemplating their third opening rack defeat of the season – having lost both previous matches in which they had failed to bag the first game.
Egerton Arms 1 Team Rileys 1
Fire fights fudge with Dave Walker pitted against Daryl Binding in the next. Egerton's bespectacled grinder fails in his usual bid to cover bags while The Pub Player takes a while to settle. But Walker finally gets into his groove and sinks an excellent final yellow before downing the black to get Rileys back on track.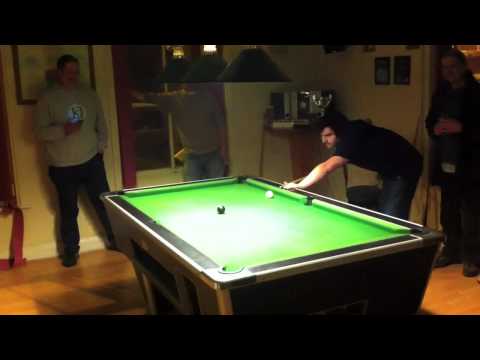 Egerton Arms 1 Team Rileys 2
Fortune evens itself out when the unfortunate Phil Davenport inadvertently sends the black into the middle bag to gift Andy Jones and Rileys rack three. The Butler had enjoyed the better of the tactical battle before Davenport's blunder ends the rack prematurely.
Egerton Arms 2 Team Rileys 2
Egerton draw level courtesy of a decent clearance from the home side's slimmer version of Dave Walker circa 30 years time (Mike Brown). Steve Pardner has his chances before Pubby mark two takes out his remaining yellows and the black – despite snookering himself on his penultimate ball.
Egerton Arms 2 Team Rileys 3
Kyle Wilson produces an excellent counter-dish to edge Rileys back into the lead. The Rookie laps up the balls and with pin-point precision takes out his final yellow while intentionally nudging the black to leave a gimme. Leon Goodier is the counter-dish victim.
The Rookie clears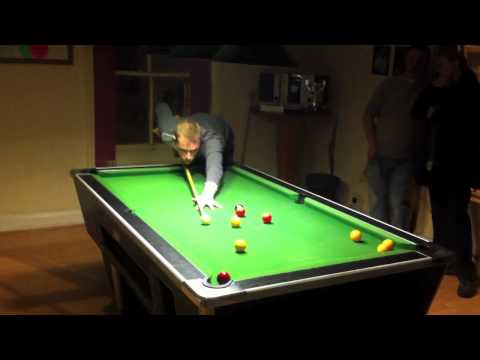 Egerton Arms 2 Team Rileys 4
Jason King is rewarded with a place in the opening six following a pre-10pm appearance. And Kingy justifies his spot with some astute early fudge before a clinical clearance after being given two shots. The Terminator also unveils the eagerly anticipated new Team Rileys shirt. Hilarity ensues with Rileys' shell-shocked team members left hoping that what the team kit lacks in taste and political correctness is made up in comedic value.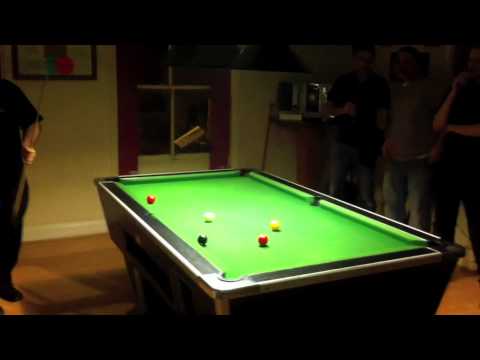 Egerton Arms 2 Team Rileys 5
Dom Mills is first to go for the clearance following some early sparring with Aidy Evans. The reds are sunk with ease before a testing positional shot goes slightly awry. The Gypsy makes up for the error with a stupendous double, sparking wild celebrations which also owe much to half a pint of mulled wine, numerous beers and ginger vodka.
Gypsy Dom's celebration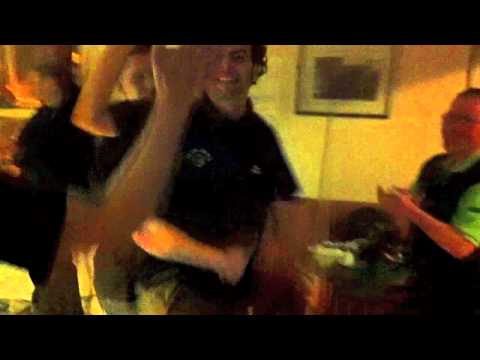 Egerton Arms 2 Team Rileys 6
A dish for Paul Coppock looks on the cards before the former Egerton Arms skipper, who oddly wasn't selected in the first half, drapes his shirt over one of Kyle Wilson's balls. The Rookie makes Coppsy pay with a neat clearance to claim his second win on the night.
Egerton Arms 2 Team Rileys 7
Bob Grant skippers his side over the winning line as Rileys reach the magic seven mark. Captain Fudge lives up to his nickname with precision safety before romping to an assured victory.
Egerton Arms 3 Team Rileys 7
Jason King suffers a surprise defeat as Rileys search for the hefty victory that would guarantee them a spot back in the top half of the table.  Kingy looks for the dish with balls awkwardly placed and the attempt finally breaks down. Egerton's Darryl Binding capitalises to claim his side's third rack of the night.
Egerton Arms 4 Team Rileys 7
Three quickly becomes four when Dave Walker loses out to his doppelganger Mike Brown. The Pub Player has two bites at difficult blacks and isn't given a third chance by Egerton's senior Walker in perhaps the biggest shock result of the night.
Egerton Arms 4 Team Rileys 8
The back to form Andy Jones ensures that Rileys win the last with what The Professor modestly claims was an "awesome performance". It turns out to be an important point that puts Rileys one ahead of a Silver Jubilee side featuring the universally disliked Danny Shone and their marginally more tolerable captain. And with Jubilee up next Rileys will hope to produce something like their best form which should be more than enough to see off the defending (not very successfully) Prem One champions.