S&DPL Premier One                                                                                      (Wednesday, November 2, 2011)
Team Rileys 6 – 6 Ollies
TEAM Rileys' third game of the 2011/12 season pitted Captain Fudge's side against early pace-setters Ollies and hopes were high within both camps at the start of the evening after unbeaten starts…
Team Rileys 1 Ollies 0
Pete Bruce gives TR their accustomed 1-0 head-start after out-potting an unusually attacking Paul White. Ollies' champion fudger surprisingly opts for a clearance but when the miss arrives The Nuisance makes White pay in devastating style. Brucey ignores several opportunities to lay a snooker and is vindicated with an eight-ball clearance.
Nice finish from The Nuisance to take a one nil lead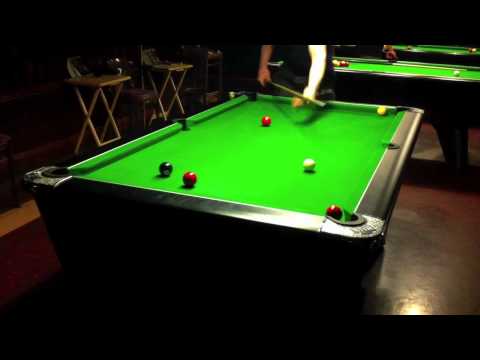 Team Rileys 2 Ollies 0
Chris White follows his father onto the losing list after failing to take advantage of a huge fluke. With the table at his mercy Whitey junior contrives to snooker himself on the black before making the fatal mistake of giving Dave Walker two shots. Pubby uncharacteristically misses a mid-range ball, but then dashes Ollies' hopes with an excellent long pot close to the rail to leave himself perfectly on the black.
Team Rileys 3 Ollies 0
Luck evens itself out with Bob Grant the recipient of some good fortune in a scrappy third rack. Captain Fudge is first to glimpse the finishing line but rattles his final yellow in an attempt for perfect position on the black. The missed ball falls kindly for TR, leaving a bemused Rick Morley snookered. Morley's attempted escape goes horribly wrong and Grant plays a precise lay-up shot to move Rileys further ahead.
Team Rileys 3 Ollies 2
What Ollies lack in camaraderie and personality they make up in ability to grind out results. And Prem One's fudgers pull themselves back into the match with victories for Ian Davidson and Rob Clarke in the fourth and fifth racks – the latter producing a composed finish to see off an unlucky Steve 'The Pest' Pardner.
Team Rileys 4 Ollies 2
Rileys get back to winning ways with an excellent long black from Dom Mills who makes amends for a series of poor positional shots with a dramatic final flourish. The dour Paul White labelled it a one in 50 shot from the side-lines, which coincidentally are the same odds on witnessing two Ollies players smiling at the same time on any one given night.
Team Rileys 4 Ollies 3
Millimetres put an end to Pete Bruce's 100 per cent record when a positional shot designed to leave an unmissable black ends with the most unlikely of snookers on the knuckle of the pocket. The Nuisance swerves the white but the black fails to drop. Chris White nails a difficult penultimate yellow down the rail before clearing up to deny Brucey a deserved win.
Team Rileys 4 Ollies 5
Steve Pardner and Rob Clarke serve up a carbon copy of their first rack with The Pest's former Moortop team-mate again coming out on top. Ollies then take the lead for the first time in the match when Carl Horsfield wins a saftey bout against the unfortunate Andy Jones who had earlier come within a whisker of potting his way out of a snooker which would have given him virtual rack point.
Team Rileys 5 Ollies 5
Paul White reverts to type in rack 10 in a bid to curb Dave Walker's all-out attacking style. Whitey returns to the table with Pubby down to his last yellow and precedes to lay snooker upon snooker. Walker plays a number of tactical fouls but White senior refuses to go for broke – before hanging himself with his own fudge. Pubby lets fly after a glimpse of an opening and rattles a difficult long yellow, leaving the ball over the pocket. White senior knows wherever he leaves the cue ball he's in trouble – and gifts Pubby an easy opener. Walker plays an excellent positional shot before squeezing a tight black into the middle pocket in a victory for the Pubster, Team Rileys and pool in general. It was a case of Mr White, in the pool room, killed by his own mountain of fudge.
Team Rileys 6 Ollies 6
Rileys hopes of salvaging a draw lie with Jason King in the final rack following defeat for Dom Mills one game earlier. Ian Davidson, aka 'The Cat', is on for the finish before a poor positional shot allows Kingy back to the table. Rileys' summer signing polishes off his remaining reds before teasing the Ollies by leaving a tricky black. Kingy declines to take the thin cut and precedes to double the black at pace to give Rileys the least they deserved from the match. Ollies leave with faces like thunder – though not too dissimilar from their expressions on arrival. Davidson, who gives the impression of someone born under a cloud who is yet to find a lead let alone silver lining, is heard to mutter "very disappointing". But in truth the Prem One fudgers used up at least one of their pool lives by taking a draw from last season's Prem Two runners-up.