S&DPL Premier One
(Wednesday, November 9, 2011)
Lamb B 7 Team Rileys 5
TEAM Rileys held sway – just – when the two sides met the previous season with a 13-11 aggregate victory. With both unbeaten over the first three games something had to give (barring a 6-6 draw obviously)….
Lamb B 1 Team Rileys 0
Rileys lose the opening rack for the first time in the 2011 Winter Season when a strangely subdued (stoned) Pete Bruce fails to take advantage of his bright start against Paul Henry. With one bag covered and Brucey's other red close to another bag The Nuisance opts to play a tactical foul. The decision comes back to haunt Bruce when Henry produces a routine clearance following a safety exchange.
Lamb B 1 Team Rileys 1
Bob Grant shows impeccable touch and vision to leave himself touching ball with opponent Dave Whitehead waiting to snaffle up a black over the pocket. Spectators might have believed that Captain Fudge had intended to move his bad ball…. but the Rileys players know their captain better than that. Grant shows great touch for a big man to leave Whitehead snookered. A poor counter-fudge is thrown in and Grant uses the two shots to mop up – game on.
Lamb B 2 Team Rileys 1
A poor quality third rack is only lit up by the shout of 'go on Green Lantern' in reference to Dom Mills' super cool t-shirt. But Gypsy Dom's pool would fail to light up a low wattage bulb on the night and Rob Kelly takes the win after Rileys' vice-captain spurns a gilt-edged opportunity at the end.
Lamb B 2 Team Rileys 2
A semi-inebriated Dave Walker gets Rileys back on track with victory in rack four. The pub player fails to hit his usual heights, but when gifted two shots from a time foul there was only ever going to be one winner (The Walker if you hadn't guessed).
Lamb B 3 Team Rileys 2
In every previous encounter with Lamb B Stockport's most flamboyant and best looking pool team have gifted Tony Bowler two visits – and 'The Bullet' has made Rileys pay. Rack five was no different with the luck-less Andy Jones on the receiving end after sending his white into the middle bag.
Lamb B 4 Team Rileys 2
Rack six swings one way and then the other before Steve Pardner attempts an audacious double to remove his one bad remaining yellow. The ball drops, but the white clips his opponent's red hanging over the pocket. The red also drops - leaving another two-visit clearance for the Lamb B fudgers.
Steve unlucky with the double/developing of black.

Lamb B 5 Team Rileys 2
Matt Norbury makes his Winter League debut for Team Rileys against Lamb B's number one. Tony Bowler looks set to make it six from six against TR before missing a tricky black into the middle. Norbs has an opportunity to make The Bullet pay but fails to press home his advantage and Bowler sinks the black out of a snooker escape second time around.
Lamb B 6 Team Rileys 2
Pete Bruce suffers his second defeat of the night after failing to cope with the speed of the cloth. His penultimate yellow should have left a relatively simple finish but The Nuisance over-runs the white. Lamb B then pile on the fudge before taking the eighth rack to earn a draw at the very least.
Lamb B 6 Team Rileys 3
A fully-inebriated Dave Walker hits the baize aiming to keep Rileys' unbeaten record alive. Stamp (first name?) smashes the white off the table from break and Pubby embarks on a series of flamboyant shots. The difficult yellows are nudged into the open by a tottering Walker who almost hits the deck after stumbling over his own feet. The Pub Player reaches his final yellow with two shots still intact – but the previous cannon shot for once failed to come off. Lamb B get their chance and immediately revert to the fudge. But with the rack there for the taking Stamp's nerves come into play. Walker then receives two shots and Stamp is licked.
Pubby shows how to "use your 2 visits" to maintain his 100% win rate.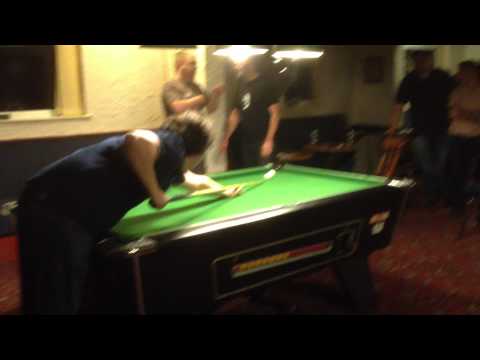 Lamb B 7 Team Rileys 3
Rileys know its not their night when even the Big Fudge loses out in a tactical battle. Grant is still well placed following a snooker exchange and is faced with a swerve escape which would potentially leave a thin black into the middle. Captain Fudge gets the swerve – but the white follows Grant's final colour into the bag and in a recurring theme Lamb B are left to mop up.
Lamb B 7 Team Rileys 4
Andy Jones finally chalks up his first win of the season in a fairly scrappy 11th which had opened the prospect of a tough dish from The Butler early doors. Jonesy combines potting ability with tactical know-how before an over-hit defensive shot ends up in the middle bag from Lamb B. The Jones only needs one to bag Team Rileys another point.
Lamb B 7 Team Rileys 5
Jason King arrives in time to finish off two plates of food before injecting the panache and clinical potting strangely lacking from Team Rileys virtually all night. The King dry breaks but is then handed two shots and cleans up with ease to add a measure of respectability to the final score-line.