S&DPL Premier One                                                                                          (Wednesday, December 14, 2011)
Windies 5 Team Rileys 7
History has favoured Team Rileys (and the old Hope Inn side) in clashes against Windies. Rileys also go into week nine on a high following back-to-back victories. But with players of the calibre of Al Smith and Tony Williamson lying in wait nothing can be taken for granted…
Windies 1 Team Rileys 0
An accident three months earlier denies Rileys the services of regular lead-off man Pete Bruce. Kyle Wilson steps up to cover for The Nuisance's absence but is unable to take advantage of a fairly open rack. Jack Sewell steps in and the hosts claim the opener.
Windies 1 Team Rileys 1
Matt Norbury pulls Rileys back on level terms with a composed finish in the second to take his stats up to an impressive 80 per cent win ratio for the season.
Windies 1 Team Rileys 2
Dom Mills is in control almost throughout in the next before Nige Doyle turns the tables with a cover and intentional foul. The Gypsy misses an ambitious three-cushion attempted pot but Doyle fails to take advantage when attempting to force a ball home in a bid to move the black. Mills sinks a three-quarter length yellow before doubling the eight-ball in style.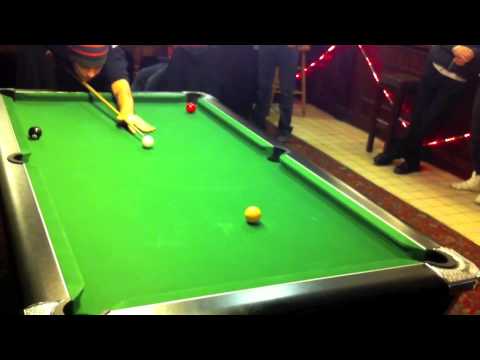 Windies 1 Team Rileys 3
Windies are favourite early on in rack four. But Rileys skipper Bob Grant wins the fudge battle to move into pole position. Captain Fudge goes for the cover that would virtually seal the win. The yellow drops but an unruffled Grant nails a long pot despite the white being stuck on the cushion. The black's a gimme and Rileys are in good shape.
Windies 2 Team Rileys 3
Both Tony Williamson and Al Smith remain seated as Glynn Howells steps up to face Andy Jones in the next. The break leaves Jones ideally placed and The Butler covers a second bag for virtual rack point. Howells pots balls before running out of options. Jones then looks to clear before losing the white while seeking position on game ball. The black fails to drop and Howells turns to his safety game. Jones then cannons a red into the midde to give away two shots and Windies battle to victory in a rack they had no right to win.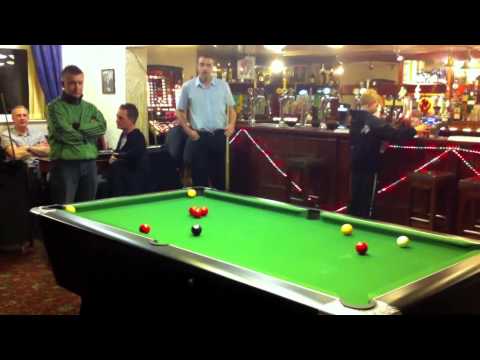 Windies 3 Team Rileys 3
Steve Pardner produces a lovely clearance before a tricky final positional shot leaves an even trickier black. The Pest fails to convert and Windies get out of jail once again to leave the Rileys crew bemused as the half somehow finishes 3-3. Williamson and Smith are perhaps even more bemused at their spectator role.
Windies 3 Team Rileys 4
It's Rileys turn to get out of jail when Jack Sewell plays a loose positional shot with a fairly routine clearance in the offing. Jason King steps in with a routine clearance of his own and Rileys are back in front.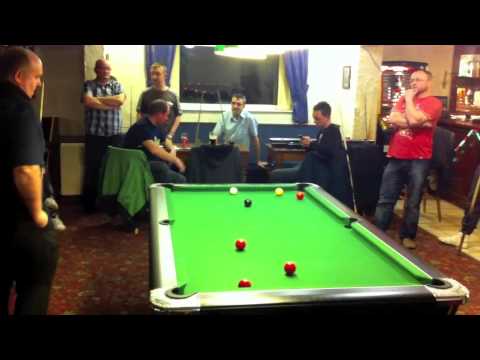 Windies 4 Team Rileys 4
Windies draw square once again when Dom Mills spurns a reasonable opportunity albeit with a slightly awkward opener. The clearance is clinical and the hosts still have Smith and Williamson to come.
Windies 4 Team Rileys 5
Cometh the hour cometh the man as Bob Grant relinquishes his fudge tag with the clearance of the night. Solid potting allayed to great position all but guarantees the win. And Grant does just that to edge Rileys back in front.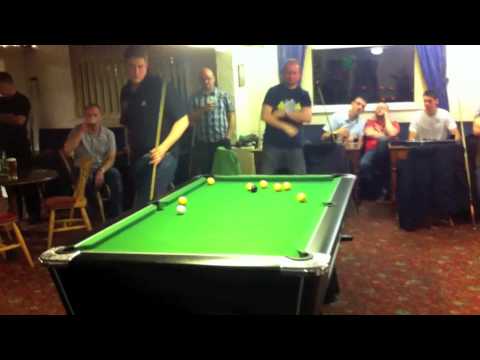 Windies 4 Team Rileys 6
Kyle Wilson states his case for the clearance of the night in the next. It's an important one which gives Rileys the cushion of knowing they can't lose. His penultime yellow is a "great shot" (several times over) according to the video footage. What's the word for his clearance – "awesome" says Steve Pardner.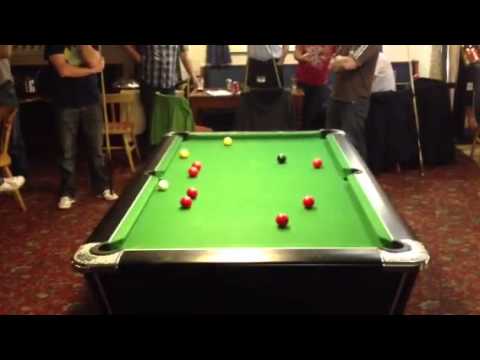 Windies 5 Team Rileys 6
Windies still refuse to turn to Williamson or Smith in the next. Matt Norbury and Glynn Howells look equally as unllikely to gain a win as the seated duo with each spurning opportunities. Norbury eventually gets on the black but misses an extremely tough pot while sinking an opposition ball at the same time. Norbury's downfall began two shots earlier with a poor positional shot and suddenly it's all down to the last rack.
Windies 5 Team Rileys 7
Al Smith and Tony Williamson battle it over who doesn't want to play the most before the latter chalks up to try and avoid defeat in the last. Rileys had hoped to see Danny 'The Moan' Shoan chalk up his cue once again but it is Williamson who steps up to face a strangely nervous Andy Jones – and both look less than assured. The Windies player has first dibs at a clearance but drops the white into the middle at almost dead weight. The Butler tries his best to make the clearance with two as difficult as possible – but still has enough class to do the business and bring home the win.